Post by Oliveriver on Aug 19, 2015 11:47:15 GMT
In this thread, you use the game's set of organelles to construct and design a cell for a certain niche. Here's an image with all the organelles and their sizes (excluding cytoplasm, which is just a single hex organelle you build the cell structure out of before adding organelles on top):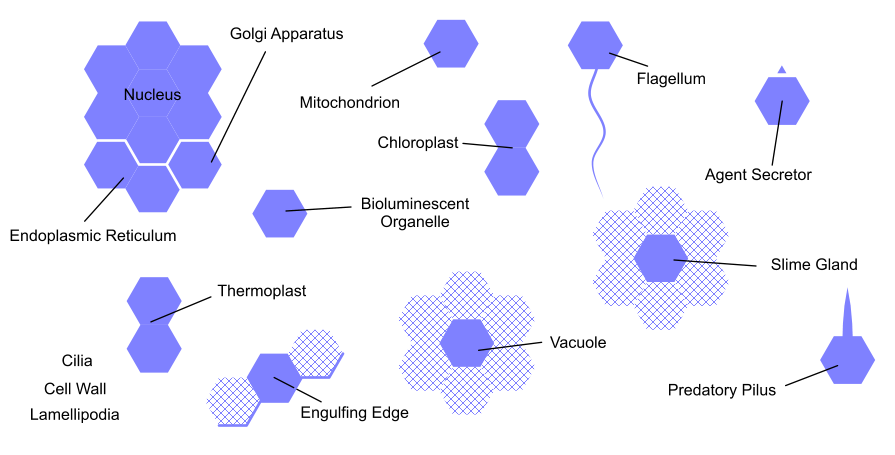 The nucleus, endoplasmic reticulum and golgi apparatus are always joined together in that configuration, and every cell must have them. Flagella, agent secretors, predatory pili and engulfing edges must be placed on the outside edge of a cell with their appendages pointing outwards. Vacuoles and slime glands are built in a similar way to cytoplasm - you place it hex by hex, and the vacuole/gland is rendered based on the shape of all the hexes together. Engulfing edges are similar, but only affect the exterior of a cell, making a section of the membrane a cell can use to engulf others. Cilia, cell walls, and lamellipodia are periphery organelles, and only one of these can be chosen. Cilia coats the membrane in small hairs for mobility, lamellipodia does the same with small stumps for surface crawling, and a cell wall creates a rigid case around the cell, restricting movement. Cell walls prevent the placement of any external organelles (flagella, engulfing edge, predatory pili) except the agent secretor.
Cytoplasm is represented by white hexes, while the colours of all other organelles are up to you.
Each vacuole must contain only one compound or agent type. Agent secretors can only be tied to one type of agent each, and you must have storage for that agent in a vacuole. Multiple vacuoles or secretors can store or use the same thing.
Other than that, there are no limits. Build something as big or as complicated as you like. You don't have to use symmetry.
---
Here's my cell: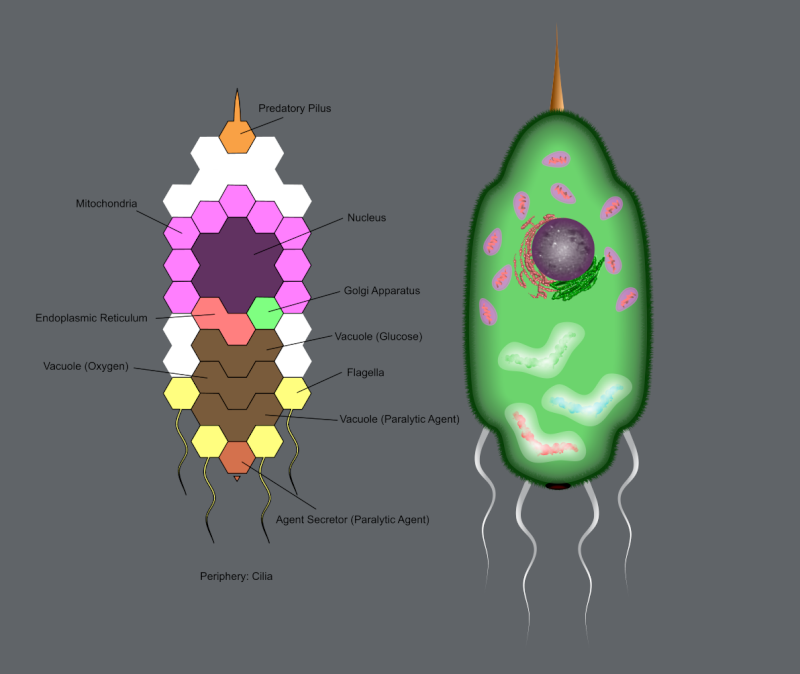 It features a lot of mitochondria, a paralytic agent, flagella and a spike. This cell is designed to be a fast predator: it releases a paralytic to immobilise its prey, before stabbing it with the pilus and using its flagella to quickly collect all the spilt nutrients. Having lots of mitochondria and oxygen/glucose storage allows it to produce a lot of energy when not hunting in preparation for speedy attacks. It also has paralytic resistance, so its own agent doesn't damage it.
---
EDIT: For reference, here's the structure of the game's starting cell (not the one in the game at the moment, but the one that will be eventually):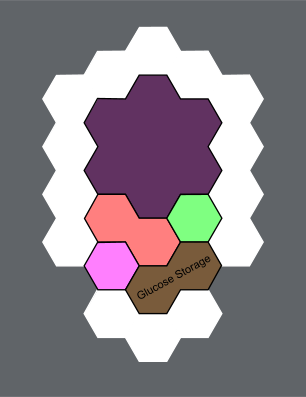 ---
ANOTHER EDIT: Oh, and if you want information on what each organelle does, as well as a list of possible agents and compounds you can use, see:
thrivegame.wikidot.com/gdd-microbe:appendices#toc1
(Agents)
thrivegame.wikidot.com/gdd-microbe:appendices#toc3
(Compounds)
thrivegame.wikidot.com/gdd-microbe:appendices#toc4
(Organelles)