Post by alohameanshello on Oct 4, 2017 19:34:04 GMT
Synopsis:
Orbiting a Class-K star is a planet referred to by xenobiologists as Dengea, meaning "Not Earth." On this planet a sapient race has arisen: the Allosoph, a purple equine-like species with four arms and and stalked eyes. They communicate through
stridulation
, the process of rubbing together body parts to make sound. To our ears they may sound like cicadas or rattlesnakes, but to them that's the norm.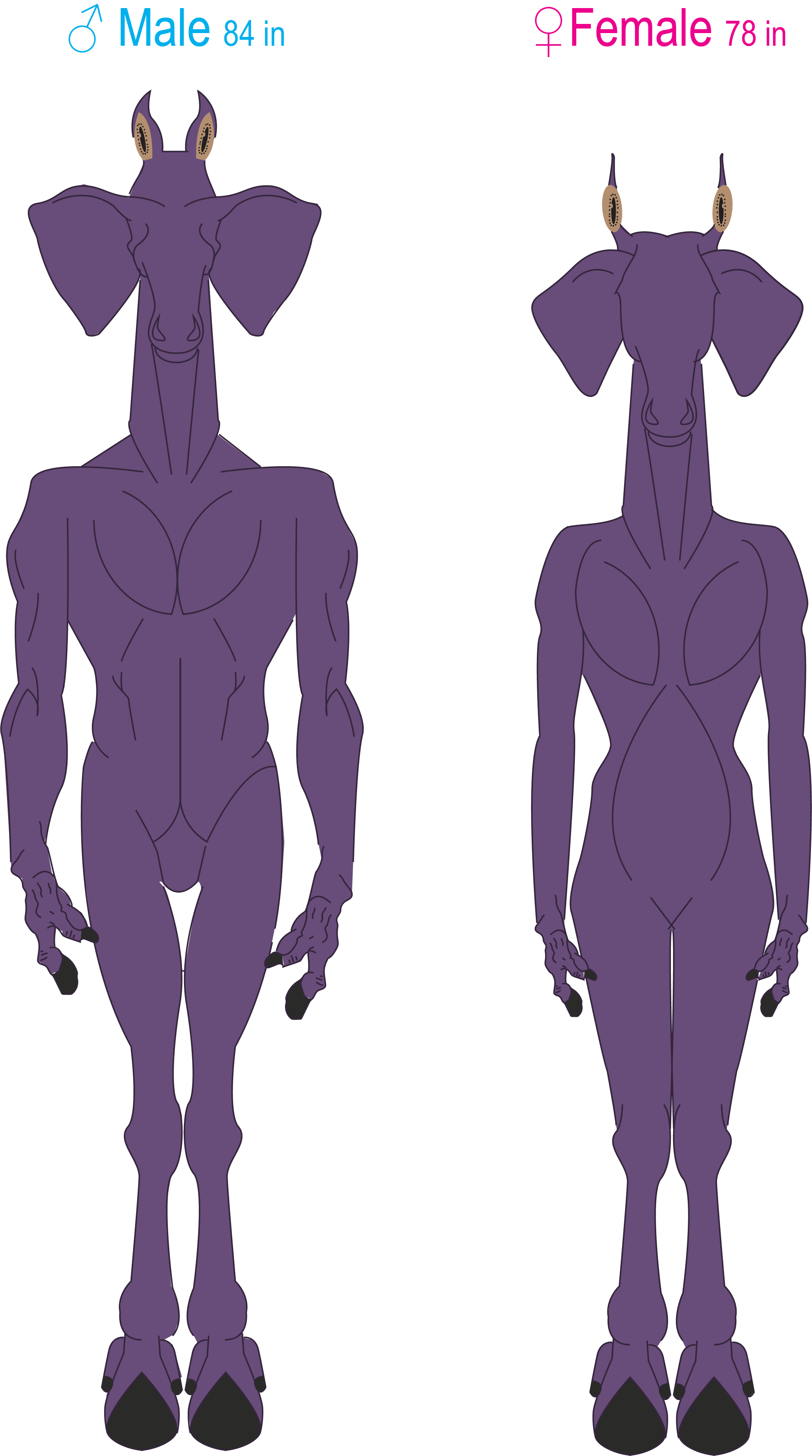 The game begins 3500 years ago, when the earliest civilizations crop up around fertile river valleys. This game is set during the Age of Divergence, the era of Allosoph history before the global conquest by the Xhi. The game will span from 1500 BC to 850 AD. The game will be divided into eleven seasons, each divided into ten rounds. Every Season will introduce one new playable civilization.
Season 01: 1500-500 BC
Season 02: 450 BC-0 ADSeason 03: 25-250 ADSeason 04: 270-450 AD
Season 05: 465-600 AD
Season 06: 610-700 AD
Season 07: 705-750 AD
Season 08: 754-790 AD
Season 09: 793-820 AD
Season 10: 822-840 AD
Season 11: 841-850 AD
This game will start with a max of six players who will select their empires in a raffle. Each civilization is spread across the planet, some only a few kilometers away from each other, others separated by large oceans. To keep the game fair you will select one of six colors, and the color you pick will determine the civilization you obtain. You'll be allowed to name your civilization whatever you'd like. The colors left in this raffle are:
none
.
Current Players:
Zorustian
GabrielGG


Xhi'Anuga Immortal_Dragon

Thourian

SoundWave


Divine Union

LordClassyus & AgentTime


Dunkin Kozir SerialKiller
Hiranq Kesha
JohnWereWright


Chausu
MineGamer117


Littaka
Aviscerator



Deceased Players:
Zirk
BlackInk
For more information about the Allosoph and planet Dengea click here
.
Rules (Stole this from SkyGuy):
How do I control my civilization? What can I vote for? How will these works?
This game will use similar rules to the original by NicktheNick and the spin off by Lowry, unless I decide otherwise in my capacity as GM. You the player play as a mysterious force that guides your people through the eons. Each round of play, you can make a vote / big policy change for your people. Your votes can also be anything from choosing to wage war against a neighbor, choosing to convert your population to a new religion, choosing to research a new technology, etc. Don't worry, picking a vote in waging war on a certain target won't neglect everything else in your civilization, it will just mean that your civ will focus on the war, same can be said for most decisions unless such decision prevent the action from occurring. Throughout the game, many things will run in the background even if not directly voted for.
Votes will be rolled for with a d20, to me this allows more possibility and flexibility in my decision making process. The possible outcomes are (generally):
1: total disaster, Fiasco level, someone probably gets hurt
2-5: Mistake and something bad will most likely occur
5-9: Generally, could have gone worse, but not much accomplished towards goal
10-14: Making progress but could've gone better
15-19: Well done, you managed to get it done right!
20: Not only did you manage to get it all done, but something great happens too!
Various bonuses can be applied depending on the roll and situation. (For example, during period of good harvest, a bonus will be applied if you vote for better harvesting techniques)
Be aware though that your civilization is large and diverse and the decisions you make only push it into a certain direction. The people can get a mind of their own and you can face internal dissent and revolutions, if you are not careful. The stability of your civilization can also fluctuate based on the how well you direct them. If your stability falls too low, your civilization will collapse, and you must branch off from another, or a successor of your own if not everyone dies, civ. Depending on the stability of that civilization, this may or may not happen peacefully.
Stability ranges from:
Imploding (-3)
Collapsing (-2)
Unstable (-1)
Shaky (0)
Stable (1)
Solid (2)
Sturdy (3)
Stability is a combination of cultural and religious unity, quality of life, political stability, war, disease, famine, resource supply, etc. Think of it like the endangerment ranking in the original.
You also have a power rating, which represents the relative strength and influence of your people.
Power ranges from:
Tiny - 1
Minor - 2
Medium - 3
Major - 4
Great – 5
Superpower - 6
Power is a combination of military force, population, technological advantage, economic prosperity, and several other factors.
For each level of power, you will able to make 1 vote. Everyone starts at Tiny, so you all start only being able to make 1 vote, but if anyone reaches Superpower they will be able to make 6 votes per round. This is not necessarily better, because more power also means more responsibility, and larger, more powerful civilizations are harder to maintain and can more easily lose stability. Remember, the bigger they are, the harder they fall.
Power is also relative. You can be a great power in the bronze age by having large armies of chariots and plenty of grain, but if you are surrounded by industrial nations with machine guns and oil refineries, you will definitely lose that Great Power status.
There will be no graphics included in the gameplay (unless I decide otherwise, and this includes maps, mainly because I have no art ability whatsoever), so if you guys want details as to the landscape and your surroundings ask me and I can explain. You can create maps for yourselves as you play and I'll add it to the game if you want me to.